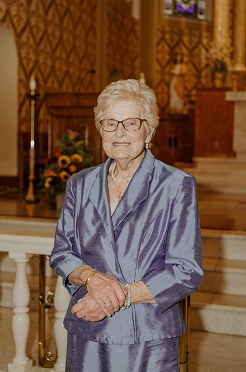 Baptized into the Hope of Christ's Resurrection on Sunday, March 26, 2023.
Beloved wife of the late Louis Bollasina; dearest mother of Greg (Mary), Scott (Betty), Dennis (Judy) and Mike (Sherry) Bollasina; dear grandmother of Katie (Kevin) Stockhausen, Sarah (Ryan) Miller, Greg (Abby) Bollasina, Jessica, Barbara, Louie (Chelsea) Bollasina, Sarah Fandrey, Tony (Agnes) Bollasina, Tony (Samantha), Kyle (Abby) Malle, Nick (Lexi), Joseph (Annie Kramer), Sam Bollasina; great-grandmother of Kyle, Justin, Vinny, Kane, Molly, Brody, Brooks, Bradley, Feliks; sisiter of Richard (Pat) Fischer, the late Agnes (Ed) Madden, Dolly (Chaz) Bischoff, John (Doris) Fischer and Dots (John) Coleman; sister-in-law of Cynthia (Vic) Agnello; our dear aunt, great-aunt, cousin and friend of many.
Josetta was a very devoted and faithful person.  She was a longtime Parishoner of Seven Holy Founders and an avid bridge player and a member of many organizations of her church.
Funeral Saturday, April 1, 9:30 a.m. from KUTIS AFFTON CHAPEL to SEVEN HOLY FOUNDERS for 10:00 a.m. Mass.  Interment Resurrection Cemetery.  In lieu of flowers, memorials may be given to St. Vincent de Paul Society and/or Seven Holy Founders Catholic Church and/or Backstoppers.  Visitation Friday 4:00 – 8:00 p.m.