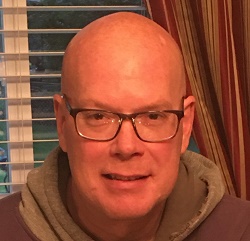 Dickey, Richard Andrew, "Andy" or "AD" age 55, passed away Saturday, July 30, 2022, after a courageous eight-year battle with cancer. He was a 1985 graduate of Haven High School, Haven, KS; received his BS from Kansas State University in 1990, and was a member of Sigma Phi Epsilon.  He worked in the food and beverage industry throughout his career, including Paramount Liquor Company, Glazer's, Alliance Foods, Inc. and Save-A-Lot.
He will be lovingly remembered by his wife of 22 years, Sandy (nee Schaeffer), daughter, Ashley, and son, Conrad. He is survived by his parents, Chuck and Dollie (nee Heiderscheid) Dickey; sister, Heidie (Keith) Miller; sister, Patti McMurphy; and brother, Gerry (Shelley) Dickey. He was preceded in death by his brother-in-law, Kelly McMurphy. He was a dear son-in-law, brother-in-law, nephew, cousin, uncle, great uncle, coworker and friend.
Some of Andy's fondest memories were spent with his high school friends in Haven, KS, and fraternity brothers at Kansas State. Throughout the years, he devoted his time to coaching youth sports. He officiated countless basketball games, and in 2006 received the Most Promising Official award from the St. Louis Officials Association in recognition of his dedication and impact on numerous kids' lives. His free time was often spent lending a hand to whomever needed it. He enjoyed being outside and working on his lawn, grilling and playing with his dog, Auggie. He loved to watch sports, and especially loved watching his own kids play, whether it was baseball, football or volleyball. His quick wit and dry sense of humor always filled the room with laughter.
A visitation for Andy will be held Friday, August 5, 2022, from 4 to 8 p.m. at Kutis Funeral Home – Affton Chapel, 10151 Gravois Rd., St. Louis, MO, 63123, with a memorial service at 1 p.m., Saturday, August 6. A remembrance luncheon will follow, with details provided at the service.
In lieu of flowers, contributions to Stand Up To Cancer are appreciated.