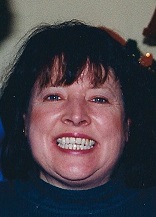 Fortified with the Sacraments of Holy Mother Church entered into her eternal rest on November 24 at Missouri Baptist Hospital and in the presence of family, she was 61. Mary was a lifelong resident of south Saint Louis County and is predeceased by her parents, Charles and Lorraine Donovan and brothers, Mark (Theresa) and Daniel (Jayne) Donovan. Survived by her siblings Judy (Bob Keller), Charlotte (Thomas Ruzicka), Matthew (Cathy), John, Luke, and Robert (Kristi), numerous cousins, nieces, nephews and great-nieces and nephews she is forever our beloved sister, aunt, cousin, and dear friend. She will be deeply missed.
Mary was blessed with a fierce independence and love of life. Born August 23, 1957, one can hardly be surprised, being the middle child of ten from an even bigger, extended Catholic family, that Mary was very much her own person determined to pursue her own path, yet devoted to those she loved.
She grew up in the parish of Saint Francis of Assisi on Telegraph Road and attended Saint Anthony's High School in south Saint Louis City (Class of 1975) where the county (country back then) mouse met the city mice who became her three best friends, Diane, Terri and Chris, together the "four Musketeers". Mary never shied away from a good drink, especially wine, a drive out into the country (in her Mustang or Jeep, of course), or the simple pleasure of sitting on her parents' back porch doing a crossword puzzle. Her life's soundtrack included Santana, Supertramp, Elton John and the Boss (Bruce Springsteen) and her favorite local haunts were Trader Vic's, Casa Gallardo, and spotting deer at Jefferson Barracks. She loved to dance.
Of her work in life we remember most her time as manager of a KFC, which became a staple at gatherings of family and friends.
Mary shared the joy of giving to many people. Her blue eyes lit up and big smile would be on display when the children at the St. Vincent de Paul Christmas Party would unwrap their gifts. She took great care to be sure Charlie and Lorraine's home was properly decorated – with lots of tinsel on the Christmas tree – for when the grandchildren, her nieces and nephews, and her siblings came back home to 501 Susan Road for Christmas dinner. Later in life she balanced work with taking care of her aging parents, a duty she shared with her dear brother John, until after Charlie passed away in 2012.
Shortly after Charlie died, Mary suffered a brain aneurysm, which slowed her down. She survived it but never fully recovered. While she still had a few good years in between, this last one saw her body slowly break down and eventually fail her. Generous to the last though, she donated her body to science in the hope that life will be better for others in the future.
Dearest sister, aunt, cousin, godmother, and friend we trust you sped swiftly into Paradise. Roll down the window and let the wind blow back your hair… and if you slow down a bit you might find your brothers drinking Busch and fishing by the lake, mom and dad will be in Church. Enjoy the ride.
Mary's Memorial Mass will be offered at Saint Bernadette's Catholic Church in Lemay on December 15 at 10:30AM. All are welcome to join the family in praising God in thanksgiving for Mary and praying for her repose.
Requiem aeternam dona eis Domine et lux perpetua luceat eis. Requiescat in Pace.