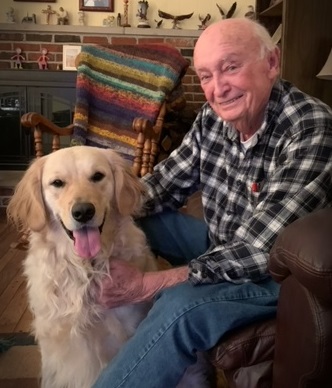 Lipsmire, James William, passed away on Monday, March 21st, 2022, surrounded by his loving family. This ended his courageous year and a half battle with pancreatic cancer at the age of 85. Beloved husband of Mary Lipsmire (Nee Ebenreck) for 60 years; dearest father of Carol (Charles) Marinaro, Mary Ellen (Jack) Fox, Jeannie (Chris) Gearin, Jim Jr. (Christine) Lipsmire, Peggy (Jeff) Evers, Susan Giles, and Barbara (Paul) Schmidt; loving grandfather to 16 grandchildren; faithful companion to Maggie, his golden retriever. A dear brother, brother-in-law, uncle, cousin, and a great friend to many. His charisma, humor, and friendship are already missed by all who were lucky enough to know him.
Jim had passion in everything he set his mind to, and he supported his loved ones in their passions, too. He was proud to support his country by serving in the United States Air Force for three and a half years. After a successful career in medical sales, he used his knowledge and expertise to start his own company, J.L. Marketing Medical Equipment and Supply Company. Later in life, Jim was consistently on-the-go, and made the most of each and every day. For 50 years, he ushered in the 10 o'clock mass at S.M.M.A. He was always sure to greet everyone he knew, and he loved to stick around after the mass was over to make new friends. Jim was also an avid volunteer, and was known at Suson Park as "Farmer Jim," with a straw cowboy hat on his head to earn the nickname. He coached youth soccer teams with his brother Ron, and was a big fan of the St. Louis Steamers and the St. Louis Cardinals. He was also the #1 fan at all of his grandkids' sporting events, and their school plays, too. Above all, his biggest passion was his loving marriage with Mary, with their love growing deeper and deeper as years went by.
Jim was always there for anyone who needed help. His children often brought broken items to his basement repair shop, and they were always delighted to have their item returned good as new, with a special treat, like jellybeans, in addition to the item. He's helped his grandkids with flat tires and bad car batteries, and he somehow had the right tool or gadget for any other predicament you might find yourself in. He was also gifted at finding lost items, even requesting a flashlight in his final hours to find Mary's reading glasses one last time.
Jim will be missed in countless ways, but his humor will be greatly missed by all. He loved to tease Mary, often retelling stories of her childhood as his own, because it made her and the grandkids laugh every time he started with the well-loved antics. He was an unmatched storyteller, and his audience at the wooden kitchen table will never forget the laughs they got to share because of him. In addition to words of humor, he was also known for his words of wisdom. He was always willing to lend an ear and give thoughtful advice to the many that chose to come to him to contemplate life's biggest challenges.
Loving Jim, and being loved by him, is a gift we cherish. He lived a life filled with positivity, love, and dedication, and we all will continue to be inspired by his legacy.
Services: Visitation at St. Margaret Mary Alacoque, 4900 Ringer Road, St. Louis, MO 63129 beginning at 9:30 am on Monday, March 28. Funeral mass immediately following at 10:30 am.
Livestream available at https://smmaparish.org/mass-live-feeds/
Interment at Jefferson Barracks National Cemetery.
In lieu of flowers, memorials to the American Cancer Society are appreciated. https://www.cancer.org/involved/donate/memorial-giving.html "