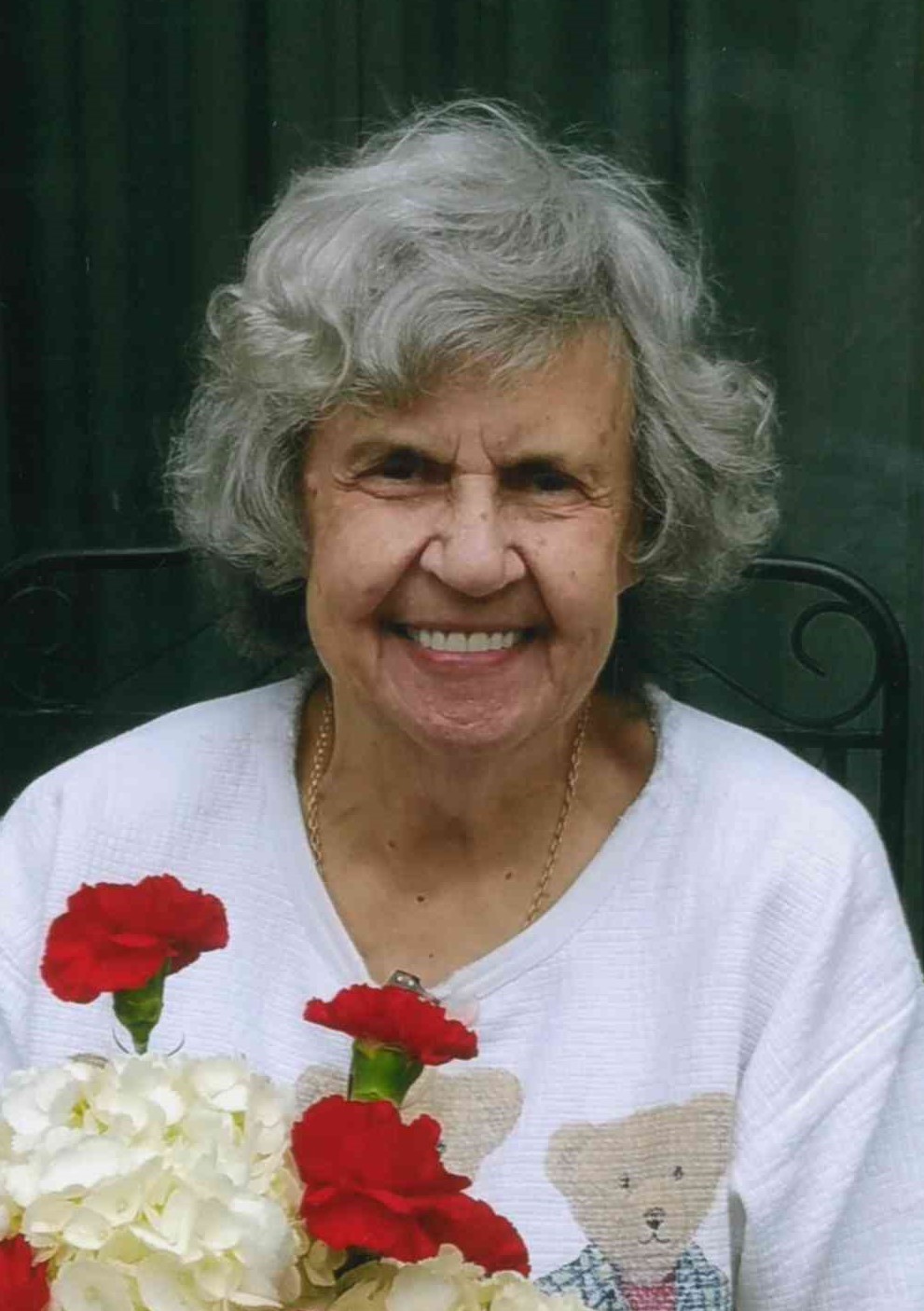 Betty Lou (nee Nehring) Duckworth was received into the Kingdom of Heaven on Thursday July 28, 2022. Surrounded by family.
Beloved wife of 28 years to the late Jack H. Duckworth.  Betty was born February 28, 1933 to the late Roman and Elsie (nee Lucash) Nehring. Sister to the late Roman "Bob" Nehring.  Betty was the great grandmother to the late Zoey Jane Rongey.
Betty was married to the love of her life Jack, on May 28, 1954. Family came first to Betty, she was always around to help, encourage, guide and lead us. In 1982 after her beloved Jack's passing she became the rock of the family. She went back to work at Alliance Food brokers as an Assistant Broker.  She worked for Alliance until her retirement and then became a full time grandmother.  Betty loved to crochet socks and blankets for everyone.  She enjoyed teaching her grandkids how to crochet.  At all stages of her life she was an educator, a teacher, a counselor, a friend, and always a cherished mother.  As children we were blessed with two great wonderful parents.  When our father Jack passed away our mother said she was married to the best.  Our parents loved each other and they loved their children.  We always had what we needed but most of all we had a Christian upbringing full of love.
As a Grandma of 7 grandchildren, whom she loved dearly, she took her grandkids on adventures around the St. Louis area and provided many delicious lunches.  She played games and watched them swim.  She taught them important things in life such as DO NOT double dip the knife in the mayonnaise jar (which everyone remembers then proceeds to ignore) and how to drive with a lead foot (which everyone listened to).
Betty is blessed to have 4 great grandchildren and 1 more on the way. As a Great Grandma, she gave all the smiles, joy and love that she had.
Betty is preceded in death by her parents Roman and Elsie Nehring, brother Bob Nehring, Loving husband Jack Henry Duckworth, and great granddaughter Zoey Jane Rongey.
Betty is survived by her loving children, Daniel and Kimberly (Watson) Duckworth,                     Diane (Duckworth) and Carl Brandow, Dennis Duckworth, Donald Duckworth, and John Duckworth. Her cherished grandchildren, Rachel Duckworth and Justin Shaner, Elizabeth Brandow, Victoria Duckworth and Matt Griebel, Jack and Kimberly (Young) Duckworth, Sarah (Brandow) and Seth Lancaster, Jill (Duckworth) and Alex Rongey, Angela Brandow and Colin Healy. Blessed great grandchildren, Henry and Joseph Duckworth, Evelyn and Baby (Oct. 2022) Griebel. 
Betty will be truly missed by her family, friends, cousins, anyone she has touched. Thank you Kimberly and Mike Laturno for always loving Betty.  A special thanks to     Ida Tremble for being a companion to Betty every Tuesday and Thursday for the last 3 years. The Hospice Family has a special place in our hearts. Every person was so caring and loving to our mother and family. We can't say enough.
Betty loved flowers, birds, her dogs, praying and donating to charities. Memorial donations are suggested. Here are a few of her favorite ones: Humane Society of St. Louis MO, 1201 Macklind Ave, St, Louis, Mo 63110. St. Jude Children's Hospital, stjude.org/donatetoday Salesian Missions, 2 Lefeyre Lane, New Rochelle, NY 10801-5710. St. Jude Shrine, 512 West Saratoga Street, Baltimore, Maryland 21201
Services: Visitation at Kutis South County Chapel 5255 Lemay Ferry Rd. Monday August 8, 4-9 pm, then Tuesday August 9, 10:00 am to St. Francis of Assisi Church for 10:30 am Mass. Interment Resurrection Cemetery. A celebration of her life will be back at the church hall.