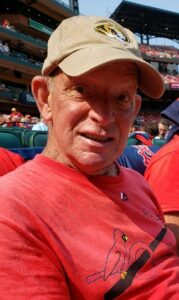 On Friday, March 24, 2023.
Dear special friend of Jerry & Sheri Huslage, Scott and the late Julie Schnuck and family, Bonnie Smith, Nikki Williams, Ed & Nancy deGreef, and Luis "Louie" & Claudia Capilla and family. Ted had 3 sisters and 1 brother.
To all of Ted's clients, a special thanks for your concerns and sympathy. Ted enjoyed Cardinals ballgames, golf, playing pool and landscaping. He took great pride in his work and taking care of his house and clients.
Memorials may be made to the Audubon Center at Riverlands, 301 Riverlands Way West Alton, MO 63386.