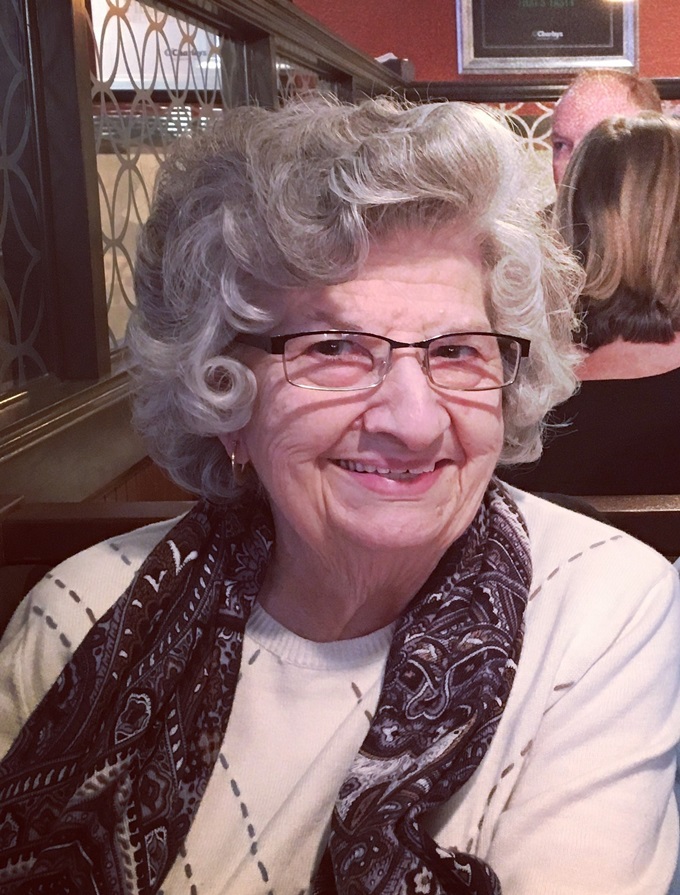 Leigh, Rosemary L. (nee Zeiter), fortified with the sacraments of Holy Mother Church on January 3, 2021.
Beloved wife of Edward Leigh; loving mother of Daniel (Diane) Leigh, Monica (Michael) Orlando and Bradley (Jackie) Leigh; cherished grandmother of Ryan, Abigael, Gregory, Amanda, Michael and Kenneth and great-grandmother of Lola, Carson, Clare and Michael; dear sister of Alfred (the late Joy) Zeiter; our dear aunt, cousin and friend.
Rosemary was born on February 5, 1933 to Theodore and Helen Zeiter and was the youngest of 12 children. Her brothers and sisters were extremely close while growing up, and all remained so throughout their lives. Their family bond was admirable to say the least.
Rosemary married "the love of her life", Edward in 1950, and Ed fondly said, "While she might have been the youngest and smaller in stature, she was a mighty one!" Together they raised three children.
Rosemary's love and unrelenting passion was for her husband of 70 years, her three children and 6 grandchildren. She was her family's matriarch, their spiritual Catholic example, their mentor, their advisor, their disciplinarian, their cheerleader, their life of every party and their confidante! Her brothers, sisters, nieces and nephews often came to her for advice and support as well! She always told you the truth, offered suggestions and solutions to life problems and could debate an issue to the very end!
Rosemary was a fair but take-charge lady who was not only a delegator, but also the hardest working woman her family knew. She could fix just about anything, cook a feast for a king and set the finest holiday tables. She was a seamstress, a painter, a make-shift carpenter, and could wallpaper and upholster furniture…and all were done freely for the enjoyment of others. Professionally she was a bookkeeper for Kasco Keene Corporation and supervised the finance department. She was, by all standards, a lady of many talents!
Rosemary also had a strong faith in God and loved her Catholic Religion. Together with her husband, they provided their children with a Catholic education and insisted upon Sunday observances. She believed in the power of prayer, especially the Blessed Virgin Mary's intercession and nightly rosary. It was no secret that Rosemary was always asking for God's loving and healing action in the lives of all family members and a multitude of friends.
Rosemary and Ed spent many years traveling and camping with her brothers and a host of family and Holiday Rambler friends.
She was preceded in death by her parents, her brothers Ted, Gene, Gus, Eddie, and Tony, as well as sisters Clara, Rita, Pat, Teresa and Mary.
Rosemary will be dearly missed by everyone that had the pleasure of knowing her.
Memorial contributions may be made to a charity of your choice.
Services: Funeral from Kutis South County Chapel, 5255 Lemay Ferry Road, on Thursday, January 14, 9:30 am to St. Francis of Assisi Catholic Church, from 10:00 am mass.
Rosemary's Funeral Mass will be live streamed at http://sfastl.org/live
Interment J.B. National Cemetery. Visitation Wednesday 4:00 to 8:00 pm