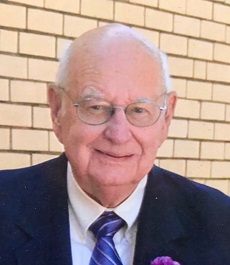 age 84, passed away on Friday, December 28, 2018. He was born on September 25, 1934 in St. Louis, Missouri to James and Ethel Gunn, Sr. On April 27, 1957, he married the love of his life, Kathleen (Kay) Lawlor. They were married for 61 wonderful years.
Jim was preceded in death by his parents and his brother,  David. He is survived by his wife, Kay, and six children: Jim, III (JoAnne), Mike (Mona), Joe  (Ellen), Greg (Kandice), John (Beth), and Mary (Paul) Michalski. He had seventeen grand-  children: Christy (Chris), Kyle (Kristin), Ryan (Lorelei), Jennie (Brad), Grace (Chris), Dan, Lauren (Matt), John, Jr., Mary, Claire, Jimmy, IV, Margaret, Rose, Katie, Ann, Julia, and Matthew. He also had seven great-grandchildren: Alyssa, Liam, Owen,  Harrison, Amie, Annie, and Addison.
Jim attended St. Ann grade school (Class of 1948) and was a proud graduate of CBC (Class of 1952). First and foremost, Jim was dedicated to his family. He also never met a stranger and welcomed all into his home. He had a successful career in sales as a manufacturer's representative and, in later years, he  enjoyed working at Pasta House.
Jim was a dedicated "Cadet", spending time supporting CBC and watching CBC sports. In lieu of flowers, donations to the CBC Class of 1952 Scholarship Fund, 1850 De La Salle Dr, 63141  are appreciated.
Services: Funeral Mass at St. Mary Magdalen Church (Brentwood) on Saturday, January 5, at 10 a.m. Visitation at  KUTIS AFFTON on Friday, January 4, from 4-8 p.m.