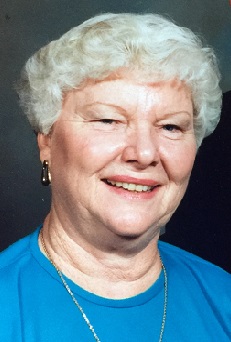 Rosemarie Josephine Frank (nee Breer), known as "Rose" by family and friends, passed away in peace on the morning of May 25, 2022 at Mary Queen and Mother Center, a few months shy of her 93rd birthday.
A reception will be held at Seven Holy Founders Church in Affton at 9:00 AM Friday June 3, followed by Mass at 10:00 AM.  The family will host a lunch at Pietros Restaurant on Watson Road following Mass.  In lieu of flowers, donations in Rose's honor can be made to Cardinal Ritter Senior Services' benevolence fund at https://cardinalritterseniorservices.org/how-to-help/donate/
Rose is survived by her younger brother Robert Louis (Bob) Breer, her three children, Kathleen Marie Frank (Kathy), Robert Gerard Frank (Bob) and William Edward Frank (Bill), four grandchildren and four great-grandchildren.
Predeceased by her husband of 67 years, Melvin Edward Frank (Mick), older sister Delores Louise Andert (nee Breer) and older brother August Joseph Breer Jr. (Gus).
Born Thursday, September 26, 1929 to August J. and Margaret M. Breer (nee Loeb), after her parents had suffered the loss of a newborn baby "Rosemarie" just two years before. The family home was a mini farm of sorts in South Saint Louis with her father working as a milkman and canary breeder and her mother was a typesetter for decades. She always lived less than 10 miles from that humble, happy home.
Rose was a diligent student, graduating from Saint Anthony's High School in 1947 after participating in everything from student government to sports, theater and yearbook! The dedication in the '47 Paduan reads "The world has been brighter for possessing her".
Her love of music continued for life with piano playing and sing-alongs galore, usually informal duets with Mick. Singing in the church choir was a joy of her life for many years. Her fastidious nature served her well when she worked as bookkeeper for the family electrical business and as a legal secretary. She was a formidable bridge player. Bowling and then tennis were keen interests, but mostly to socialize (however, beware of her cross-court forehand put-away shot).
She compiled catalogs of photos from travels with Mick and usually Kathy. Everywhere from Branson to Florida, California, Europe and Australia.
A devoted wife and loving mother, Rose also had lifelong friends. Sadly, Alzheimer's ravaged her mind in latter years.  But we will always remember the many gatherings around the piano as everyone sang pop songs and show tunes together !
The family is extremely grateful to Cardinal Ritter Senior Services for providing six years of care for Mom at the Mary Queen and Mother nursing home. Kathy is now a resident there too.