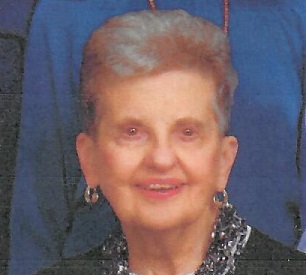 Dolores Ann (Goyda) Reis, but known to all as "Do" ever since her younger sister started calling her Do because her full name was too difficult for the toddler to pronounce, died peacefully March 27, 2023 at the age of 91.
Do was the first of three children born to Michael and Ann Goyda, in St. Louis, Missouri. She lived her entire life in the St. Louis area, graduating from Cleveland High School, marrying the love of her life William "Bill" Reis, then together raising their family.
Do was a devout Catholic. Much of her service to others revolved around Holy Redeemer School and Parish, including, but very much not limited, to room mother, serving meals at Sts. Peter and Paul, organizing several Martha and Mary Society teams, and serving as Eucharistic Minister. As a resident of Our Lady of Life Independent Living Apartments in recent years, Do thought it an honor to be entrusted to handle the Mass intentions.
Friendships were cherished by Do, but good friends knew not to wait for casual conversation. Organizing the tables and food for park picnics, delivering an entire tray of home-baked Christmas cookies right to your door, or offering to watch your children or bringing a homemade dinner for your family to your home during a time of need was much more Do's style. Two especially endearing groups of friends have been "The Chics" and the Christian Family Movement (CFM) small group. Family, however, held the biggest place in Do's heart.
Do is survived by her sister Barbara (David) Brigham; sisters-in-law Nancy Goyda and Marie Reis; children Carolyn Woods, Patricia (Scott) Hackett, Jeff (Leslie), John, and Janice (Craig) Smith; grandchildren Justin, Stephanie (Jon), Emerson, Samuel, Gabrielle, Stephen (Jocelyne), Benjamin, David, Daniel, Peter, Cydney, Christopher, Mary Michaela, and Andrew; great grandchildren Harper and Leo; and many nieces, nephews, and cousins. Do was preceded in death by her husband William Reis, brother Michael Goyda, brother-in-law Richard Reis, and son-in-law Jack Woods.
A visitation will be held Thursday, March 30, 2023, from 4-7PM at Kutis Funeral Home, 10151 Gravois, St. Louis, MO 63123. Funeral mass will be held Friday, March 31, 2023, at 10AM at Holy Redeemer Church, 17 Joy Avenue (facing East Lockwood), Webster Groves, MO 63119. Internment will follow at Resurrection Cemetery.
In lieu of flowers and other gifts of remembrance, please consider a donation to Pathways to Independence, a program committed to developing social, interpersonal, and communication skills in individuals with cognitive disabilities:
Ptistl.org
Or
Pathways to Independence
11457 Olde Cabin Road, Suite 235
St. Louis, MO 63141