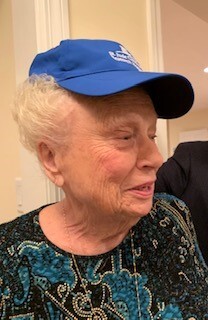 92 years young, of St. Louis, MO died peacefully on February 19, 2022.  She was preceded in death by her parents August T. Schiley and Helen Sandweg (nee Rodgers), siblings Marilyn Strawser (nee Schiley), Robert Schiley, and former husband William D. Tulley, Jr. Surviving family members include her brothers Keith Oakes and Darryl Sandweg, plus more than 60 nieces and nephews and their offspring. Helen's zany personality, Thanksgiving dinners and frequent malapropisms made her a delightful aunt, sister and friend.
Funeral at Kutis Funeral Home, 10150 Gravois Rd., Affton, on Friday, March 4 at 11 a.m. Interment at Sunset Cemetery in Affton at 11:30 a.m. Visitation at Kutis Thursday, March 3, 4-8 p.m.
In lieu of flowers, please consider a donation to St. Jude Children's Research Hospital.