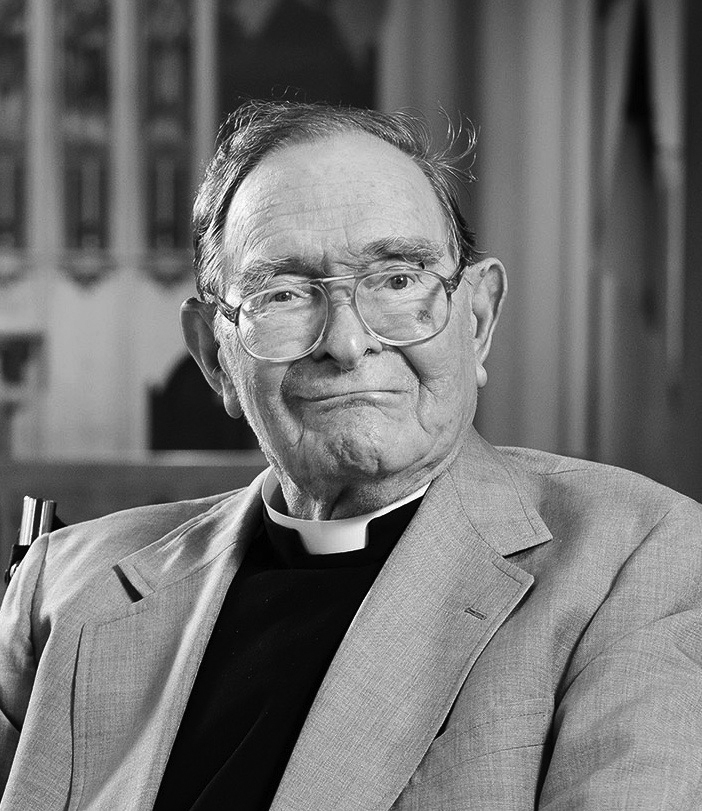 Norman Edgar Nagel Sept. 30, 1925 – Oct. 8, 2019
Dr. Norman Edgar Nagel died in St. Louis, Missouri, on Oct. 8, 2019, after a long and distinguished career as a Lutheran pastor, professor, and theologian, in Australia, England, and the United States.
Dr. Nagel was born on Sept. 30, 1925, in Guilin, China. His parents – Christian Dietrich Nagel, born in New Zealand, and Mathilda Emilie (Maroske) Nagel, born in Australia – were Lutheran missionaries in Hankow, China. His older brother, Keith Otto Douglas Nagel, was also born in China. (Keith later became a Lutheran missionary to New Guinea and then president of the New South Wales District of the Lutheran Church of Australia.) In 1927, when civil war broke out in China, the family returned to Australia, where Dr. Nagel's father served as a pastor in Netherby, Victoria; Palmer, South Australia; and Booleroo Centre, South Australia.
After attending the one-room school in Netherby, Dr. Nagel left home for high school at Concordia College in Adelaide, South Australia. He received his B.A. from the University of Adelaide in 1945. To pursue his goal of becoming a pastor, he travelled across the Pacific to the United States, to Concordia Seminary, St. Louis, a seminary of the Lutheran Church­–Missouri Synod. He received his M.Div. in 1953.
On June 13, 1953, Dr. Nagel married Betsy (Priscilla Elizabeth) Newman, of Fanwood, New Jersey. That same year he was called by the Evangelical Lutheran Church of England (ELCE) to serve Luther-Tyndale Memorial Church in London, England, where he was ordained. In 1957 the ELCE sent him to Cambridge University, where he received his Ph.D. in 1962. In Cambridge he helped establish Westfield House, a Lutheran house of studies, and was its first preceptor.
In 1968 Dr. Nagel was called to be professor of theology and dean of the chapel at Valparaiso University in Valparaiso, Indiana. For many summers during the 1970s, he was on the faculty at Holden Village in Chelan, Washington, a Lutheran retreat center in the Cascade Mountains. In 1983 he returned to Concordia Seminary, St. Louis, where he was professor, graduate professor, and chairman of the department of systematic theology. He retired from full-time teaching in 2006. He received honorary doctorates from Concordia Seminary, Fort Wayne, Indiana (1999); Concordia College, Bronxville, New York (2000); and Concordia University, Irvine, California (2012). His selected sermons were published in In the Name of Jesus (1999) and Selected Sermons of Norman Nagel (2004).
Dr. Nagel is survived by his wife, Betsy; their three sons, born in England: Richard (married to Norma Coates), Christopher (Kit) (married to Molly Halvorson), and Matthew (married to Kristi Higgins); four grandchildren: Jonathan (married to Judy Pang), James (married to Dallis Fox), Keith, and Isabelle (Izzi); and one great-grandson, Cameron.
A visitation will be held Monday, Oct. 14, from 3 to 6 p.m., in the multi-purpose room to the right of the chapel at Laclede Groves, the Lutheran Senior Services community in Webster Groves. The funeral service will be held Tuesday, Oct. 15, at 11 a.m., in the Chapel of St. Timothy and St. Titus, Concordia Seminary, St. Louis. In lieu of flowers, gifts may be made to The Friends of Westfield House, 5800 Westheimer Road, Houston, TX 77056, or the Nagel Endowment Fund, Concordia Seminary, 801 Seminary Place, St. Louis, MO 63105.