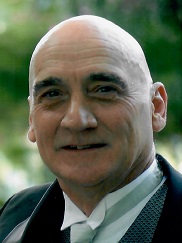 Kenneth Frank Stratman, Jr., beloved husband, father, grandfather, brother, brother-in-law, uncle and friend, of Saint Louis, Missouri, lost his short battle with pancreatic cancer on March 26, 2023, at the age of 75, and now joins his parents Dolores and Kenneth Stratman, Sr.  Born on October 13, 1947, Ken is survived by his wife, Marcelline Stratman; his daughter, Kim Ackerman, son-in-law, Rob Ackerman and granddaughter, Alyssa; and his son, Keith Stratman, daughter-in-law, Molly Stratman and grandsons, Jackson, Benjamin and William.  Ken is also survived by his sister, Toni Kaye Boehm, nieces, Laura and Andrea and nephews, Kevin, Michael and Tim.
Ken was a graduate of Holy Innocents Catholic School, Bishop DuBourg High School and Meramec Community College.  Ken served in the National Guard for 6 years.  In 2010 he retired from a 43 year career as a transportation designer to spend time with his grandchildren.
Since he was a teenager, Ken raised homing pigeons and raced them on weekends.  His connection to his birds was real, they brought him peace.  He spent his last week at home breeding his champions.  An avid St. Louis Cardinals and Blues fan, Ken went to many Cardinals games each year and was a proud Blues season ticket holder for most of the last 50 years,  To see his team raise Lord Stanley's cup was a dream come true to Ken!
Throughout his life, Ken touched so many people.  He never met a stranger, had a heart of gold and would do anything for anyone.  Ken was kind, respectful, patient, smart, strong, hard working, loving, funny, genuine, the true example of a gentleman.
Family meant everything to Ken.  He cherished time spent with those he loved.  Family included those born into his life as well as those chosen few that never shared an ounce of blood with him, but shared their whole hearts.  Above all, Ken's two precious children and four amazing grandchildren are what filled his world with joy.
Visitation will be from 4:00-9:00pm on Thursday, March 30th, at Kutis Funeral Home, 10151 Gravois in Affton, Missouri.  A funeral Mass will be held at 10:00am on Friday, March 31st at St. Margaret of Scotland, 3854 Flad Ave. in St. Louis City, followed by a funeral procession to Oak Hill Cemetery, 10301 Big Bend Rd. in Kirkwood, Missouri.  Please join Ken's family for a celebration of his life immediately following the interment at the Stratman's at 9935 Vicksburg Siege Court, St. Louis, Missouri, 63123.
In lieu of flowers, Ken requested that donations be made to the Pancreatic Cancer Action Network at 
pancan.org/donate
, or through the mail at 1500 Rosecrans Ave., Suite 200, Manhattan Beach, CA 90266.