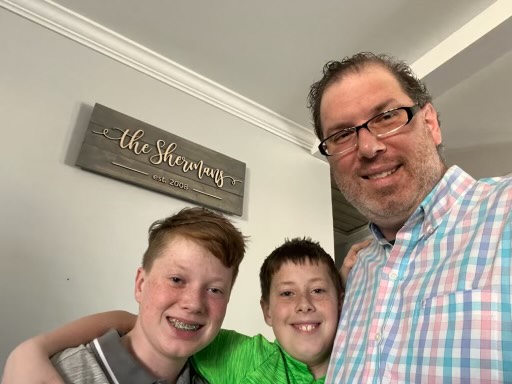 George Michael "Mike" Sherman, 45, went home to Heaven on Sunday, September 10, 2023. He left behind his wife Kari and sons Hutch and Josiah, but only until their reunion which will last for all eternity. Kari and Mike met through a mutual friend and their first date was a Jazz Night at the Botanical Gardens. They never looked back. They were married on December 5, 2008. One of their favorite memories together was their honeymoon in Greece. Kari does wonder, just a little bit, if he married her for the long game knowing that having a nurse for a wife would come in handy! 
Mike was born in Brockton, Massachusetts on June 20, 1978, to George and Barbara Sanborn Sherman. His father preceded him in death. Family members he leaves behind include his mother Barbara Sherman-White (Doug), brothers William (Juliana) and Matthew and sister Hope Eaton. He is also remembered by his mother-in-law Dorothy Fairchild (Don) and brother-in-law Jim, as well as special family members Shane and Robin Williams, John (Christina) and Joel (Sheila) Williams and his nieces and nephews. 
Mike worked as an estimator and inside salesman. He enjoyed video games, working in the yard and hunting. His favorite foods included Boston Crème Pie, cottage cheese, deer bacon and game meat in general. And he liked beer. Drinking beer around a firepit in the backyard was a favorite pastime. 
Knowing Mike meant never being bored. You were never quite sure what direction his quirky mind would take and what would follow out of his mouth. For instance, did you know that there was only one way to fold clothes and that only one person knew how to do it correctly? That would be Mike. He told Kari she folded clothes like a drunken toddler. Yes, a drunken toddler. Of course, that meant she got out of doing laundry while he was alive, but now it's anything goes and there is nothing he can do about it! 
Another thing Mike felt strongly about was his sports teams. Living just south of Boston, Mike was unswerving in his devotion to the Red Sox, Bruins and Patriots. And, let's be honest, he did have the best quarterback ever in Tom Brady. But seriously you would think after living so long in St. Louis he could be swayed to cheer the Cardinals just a little, but he didn't budge an inch. When the Red Sox beat the Cardinals, he was basically insufferable, or so it seemed to his Cardinal-loving friends. But the tide turned when the Blues beat the Bruins. Kari admits to seriously rubbing it in! 
Mike was fun-loving and it could be said he liked to stir the pot. Recently Kari told him to finish up his pizza so he could get in bed and he looked at her with a mixture of mischief and defiance and shoved the whole piece in his mouth. There was zero loss of personality even when it became difficult to talk. He was still the Mike everyone knew. 
When his boys were babies, Mike was notorious for throwing them up in the air and catching them. He would throw them so high, any mother in the vicinity felt their heart stop. It didn't help that Mike was so tall to begin with, but it's no surprise that one of the boys' favorite memories is going down a 100 ft. zip-line with their dad. That seed was planted young! 
Mike had a very generous heart, and this is evidenced by the fact that one of his friends drove twelve hours just to spend an hour and a half at his bedside when he was dying. Only real love produces that kind of honor and loyalty. And Mike was very loyal and caring to those around him. More than one person who had lost family connections was welcomed into his and Kari's home – especially when a holiday was involved. No one he knew spent a holiday alone. 
He was also very supportive of anyone dealing with an illness. Having had two open heart surgeries at a young age, another open-heart surgery as an adult, and brain surgery made him sensitive to other people who were suffering, and rather than shy away at the reminder of what happened to him, he would press in and show care. 
And Mike loved Jesus. He was a wonderful Christian man who served his church and loved his church family. His church family loved him immensely in return. Mike was a drummer who willingly started playing soon after he started attending. And when the church badly needed a bass player, he volunteered to learn how to play. If you needed help moving, Mike was there. And if there was a church workday, Mike was there, too. He truly had the heart of a servant.
Mike was the person everyone gets joy from knowing and the person we all wish there were more of. He will be missed in more ways than can possibly be expressed. All that can be said is that, however brief it was, Mike's life was one well-lived and his legacy will continue far into the future.
Services: A celebration of Life will be held on Saturday, October 7, 2023 at 10 a.m. at Christ the King Community Church. (9018 Big Bend Blvd. St. Louis, MO 63119)
In lieu of flowers, the family is asking that donations be sent to their GoFundMe to provide a means to keep the boys in private Christian school.  Mike was not eligible for life insurance due to his medical history.